The easy way to manage your Pension & Investments in the UK
Take control of your UK savings with our online service, designed for expats and non-UK residents.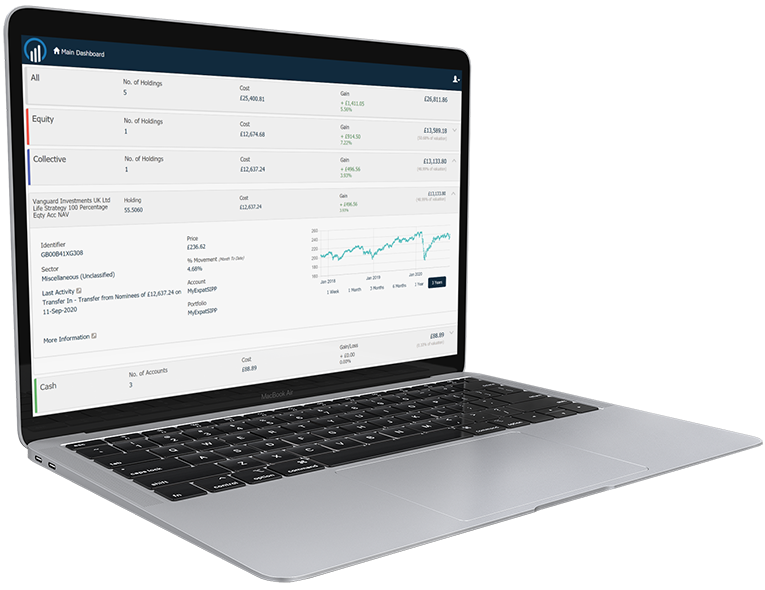 Putting
you
in control of your money
The MyExpatSIPP service enables expats and non-UK residents to stay in control of their UK pension and investments from anywhere in the world, without having to use a Financial Adviser.
Transfer a single pension or combine multiple pensions into the easy to manage online SIPP account with complete control over how your pension is invested, together with full support and guidance from our pension experts.
Keep your pension invested and take withdrawals whenever you want from age 55. There's no requirement to purchase an annuity and you can take lump sums, a regular income, a combination or nothing at all. Withdrawals can even be paid to a non-UK bank account.
Our platform allows you to choose how your money is invested and you can select from:
UK, US and other overseas Shares
Exchange Traded Funds
Investment Trusts
Unit Trusts & OEICs
A range of Ready-made Portfolios
You can choose the base currency for your account, the currency of your investments and even the currency of your pension payments.
We have expert knowledge to assist you with managing your pension in the UK and will explain the options available to you and the implications of being resident overseas.
Online dealing in global Shares, ETFs, Investment Trusts and Mutual Funds
Live market quotes and instant execution
Hold investments and cash in multiple currencies
Track individual investment performance
Accessible on desktop, tablet and mobile
Paperless correspondence
2-step login for security
Wide range of investment options
As well as offering individual stocks and shares, we offer thousands of Exchange Traded Funds, Investment Trusts, OEICs and Unit Trusts from the world's leading investment managers.








Here's what our clients have to say
Got some questions about transferring your pension?
Get in touch with our specialist UK support team